I love entering into giveaways. I usually stick to giveaways that are for cloth diapers and other useful items for the kiddos. But during the holidays you can enter for all sorts of giveaways... clothes, giftcards, toys, toys, and many other items. So I have entered for everything I think our family might be able to use. Though I have only won one diaper so far this holiday season, I am still hopeful.
Well, the holiday season is coming to an end so It will be back to fluffy giveaways for me real soon. And I have already found an event that will be just that. Mama of the Littles at
Life with my Littles
is having a birthday bash with lots of fluffy goodness. She is blessed with two boys just like me and is having this event for their 2nd and 4th birthdays.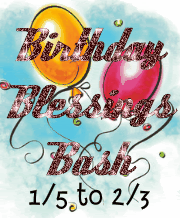 Some of the fluff included in this event are:
Applecheeks, Happy Heinys and Bum Genius. I am especially excited about the Thirsties and the Rockin green detergent!
If you want to enter in for some cloth diapers and accesories yo ushould check out this event in the coming year, too!
Like the cold of snow in the time of harvest
is a faithful messenger to those who send him;
he refreshes the soul of his masters.
Proverbs 25:13 (ESV)