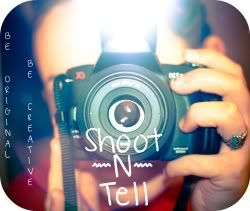 These pictures were taken a while ago (mid June) but i thought they would be good to share the story of what was going on (plus i can't take new pics right now because I don't have any good batteries...sad I know)
These pictures were taken when Rock was still trying to learn to balance while sitting supported. I leaned him up against a pillow that was leaned against my headboard and started "Mommy's Photo Shoot." I went through several outfits but the shots in his 'champ' outfit were my favorites. He was laughing and having fun with the attention he was getting almost the whole time :)
He laughed after sneezing and falling over, it was too cute! After several shots and several times of readjusting him I finally got a great shot:
He even placed his hand on his knee on his own :) I have a very photogenic baby boy (when he isn't sleepy or hungry) The trick is trying to change him when he wants to play.
He stole his shoe from mommy and thought it was hillarious. I tried taking a picture of him laughing but had put the camera up when I got ready to change him (silly me) So here he is still hoding his shoelace but not laughing as hard.
(ends on Wednesday so hurry on over by clicking the button at the top or one of the links)
Bow down thine ear to me;
deliver me speedily:
be thou my strong rock,
for an house of defence to save me.
Psalm 31:2(KJV)